Steven Tyler funds Janie's House for abused girls
When Aerosmith frontman Steven Tyler saw rain was forecast in Memphis the day he was scheduled to open the second Janie's House for abused and neglected young women, he asked God to please, bring some sun.
"And here it is," he said. "It's kind of been that way my whole life."
Tyler recounted when a little birdie, or God, whispered in his ear, or made him play, the piano lick to "Janie's Got a Gun."
"Da-na-na. Na-na," Tyler sang. "I loved it. I didn't know what to do with it, so I started singing with it, 'Janie's got a gun,' and I thought that sounded pretty cool."
Tyler put it on the back burner at the time.
Living the rock 'n' roll lifestyle, Tyler started to struggle with codependency and checked himself into a treatment center. While he was there, all the women he met had been abused – physically, mentally or verbally.
"That touched me, so when I got out of there, I laid that all into 'Janie's Got a Gun,'" he said.
Tyler recalled a scene in the song's music video, in which Janie's mother becomes aware her husband is abusing their daughter but does nothing about it.
"No, that's not alright," Tyler said.
The song is based on a story he heard while in treatment about a woman who experienced sexual abuse as a child that eventually led to a drug addiction.
The 1989 Aerosmith hit inspired Tyler to start Janie's Fund 26 years later, on the anniversary of the song's release.   
Since the program launched in 2015, Janie's Fund has raised more than $5 million to help girls overcome the trauma of abuse and neglect.
On Monday, Feb. 4, Tyler was in town to open Janie's House, a 3,900-square-foot residence providing 24-hour care and therapy for girls who are survivors of abuse and neglect, at Youth Villages' 82-acre campus in Bartlett.
Partnering with a rock star
When Youth Villages CEO Patrick Lawler received a call from Tyler's manager, he thought it was a prank call from a friend.
A few weeks later, Lawler was sitting across from the Grammy Award-winning musician in a hotel lobby in Massachusetts.
"For almost three hours, Steven poured his heart out to us, telling us about his entire life – all the challenges, the ups and downs, the demons, the success, the excitement," Lawler said. "He was so passionate talking about these young women. He said, 'Can I work with you?'"
Lawler thought Tyler wanted to be a spokesman. He didn't. He wanted to be all in.
Lawler recalls Tyler telling him, "'I know my music has made a difference, but I want to make a difference in the lives of young women who have been traumatized and abused.'"
Youth Villages' journey with Janie's Fund started about five years ago. In August 2014, the organization hosted Tyler at its campus outside of Atlanta. He spent five hours on campus, talking to the girls and clinical staff to learn more about what Youth Villages does and why it is important.
"We had five hours to talk to Steven about this dream he had that's been incubating for 20 years about how he wanted to help abused girls across the country," said Youth Villages chief development officer Richard Shaw. "From that day forward, we were convinced this was going to be a wonderful partnership."  
Lawler described working with the rock star as a whirlwind that led to the opening of the first Janie's House in 2017 at Youth Village's Inner Harbour campus outside of Atlanta.
On Sunday, Feb. 10, Tyler will host his second annual Grammy watch party to benefit Janie's Fund. The first, held last year, included 500 of Tyler's closest celebrity friends, raising $2.4 million.
"If Tyler's name is assigned to anything, he wants to be actively involved in the process," Lawler said, "even down to how the money is spent."    
Tyler prioritizes funds to help girls who have grown up in the child welfare system and age out at 18 years old, about 10,000 annually.
Most of the funds Tyler raises goes to support the YVLifeSet, a program for young people aging out of foster care.
"It helps them find a job, stay in school. If they do have drug and alcohol problems, make sure they are in a 12-step program," Lawler said. "It helps them have a better chance at an adult life and live responsibly."  
Tyler himself is in a 12-step program for addiction. He often tells the young people he meets, "If I can do it, you can do it."
"If I go back a month later and that kid is clean, I'm happy; one person, but here you guys are helping so many people," Tyler said.   
Creating a safe place
Nicole Fannin, regional director of residential services at Youth Villages, asked the girls who would be living in Janie's House, "Ladies, if you had an opportunity to tell Mr. Tyler anything in the world, what would it be?"
One said, "Thank you for creating a place that allows me to sleep peacefully at night because I've never had that before." Another said, "I appreciate being able to stay in Janie's House because right now, it is safer than my mom's house." One little girl said, "You know, it's just not often that somebody like him cares about somebody like me."
JaBrayia, 14, has been at Youth Villages for about three months. She experienced sexual abuse at a young age and was put in foster care before being adopted by her now mom.
"Through this, I felt lost and hopeless and acted out through anger," she said. "When I arrived at Janie's House, I thought treatment would be easy for me, but it has been hard."
In Janie's House, JaBrayia participates in individual and group therapy as well as outings and communication with her family.
"By going through therapy, I have learned it is easier to talk to someone and to focus on myself with the support of my counselor," JaBrayia said. "I can learn how to be safer in the community, to get back home, and how to work through my anger. Through Janie's House, I can learn a lot about my past and learn that I was not the only one who has been through the same problems."    
Janie's House is a renovated cottage that was built in 1986 as a residential facility for girls. About 230 young people live on the Bartlett campus, which includes medical care, counseling and a school.
The renovated house was designed by brg3s principal Susan Golden and delivered on time and under budget by F & F Construction.
It has common areas and a 700-foot deck in the backyard that overlooks the property's 8-acre lake.
The walls have inspirational quotes and murals selected by Tyler.
About 30 girls are anticipated to stay at Janie's House each year, as it serves girls ages 12 to 18 for an average of four to six months with the goals of reuniting them with their families or finding a stable foster or adoptive family.     
Youth Villages also has a center for boys directly behind the newly renovated girls' quarters.
"Here I am, 70, and this kind of stuff is still happening to me," Tyler said. "It's God. It is, so just when the world feels over, you can still turn into a butterfly."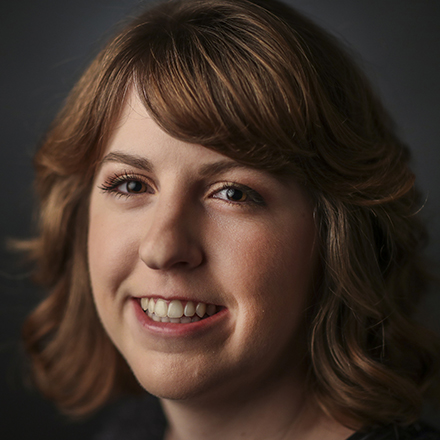 Michelle Corbet
Michelle Corbet covers business for The Daily Memphian. Prior to, she was a reporter at the Memphis Business Journal. A native Memphian and University of Memphis graduate, Michelle covered business in Conway, Arkansas after college. Michelle got her start covering business as an intern at The Commercial Appeal.
---