Bike and community projects proposed for South Memphis inspired by the Netherlands
One by one, each Big Jump Project advisory committee member explained the project they want to pursue in South Memphis, based on inspiration from a week spent in the Netherlands in June.
The members, consisting of folks from South Memphis neighborhood organizations like The Works Inc., South City's new community development corporation, city of Memphis divisions and others, first publicly presented the projects at Advance Memphis' warehouse on Suzette Street on Aug. 23.
Memphis was one of only 10 cities chosen from 100 applicants to take part in Big Jump, a PeopleForBikes three-year initiative. Through the program, the national nonprofit is working to improve neighborhoods by improving streets and mobility options and thereby increasing access to jobs, education and recreation. The other cities chosen were Austin, Texas; Baltimore; Fort Collins, Colorado; Los Angeles; New Orleans; New York City; Portland, Oregon; Providence, Rhode Island; and Tucson, Arizona.
The Big Jump aims to achieve improvement in three ways: by building better infrastructure to make it safer to walk, ride bikes and access public transit; through programming and activation, to encourage people to use more modes of transportation; and by focusing these efforts in a specific area in each city. 
Big Jump leaders in Memphis decided to focus on South Memphis.
"We know a third of all households in this area do not have access to a car, so these are people who already are relying on walking and biking and public transportation just to go about their daily lives," said Nicholas Oyler, city of Memphis Bikeway & Pedestrian Program manager.  "It's not just recreation, it's not just sport for them, it's an increase in their quality of life."
As of July 2018, Oyler said $2.8 million in investments had been targeted into projects as part of the Big Jump Project. That includes things like infrastructure and street improvements on Mississippi Boulevard, Explore Bike Share stations, a new interpretative trail and signage at Knowledge Quest, and South Memphis Glide Rides' community bike rides and ambassadors.
Workshops with residents followed the Aug. 23 unveiling and their feedback will be collected and put into an implementation plan. The plan will be presented at an October meeting. That meeting takes place next door to a temporary form of one of the projects, a Walker Avenue "demonstration plan." The open house is scheduled for Saturday, Oct. 27, from 10:30 a.m. to 1 p.m. at Gaston Community Center, 1048 S. Third St.
Once the implementation plan has been vetted by the public and finalized, Oyler's goal is to build the first phase of the recommendations from about January 2019 to July 2020. There will be a private fundraising component to match the public investment, with all recommended improvements being phased-in over a handful of years.
"The first phase will likely include some of the most needed improvements, as well as the low-hanging opportunities," he said.
The proposed projects range from a "bicycle safety town" to a pump track in a local park to underpass enhancements, including public art and lighting.
The community projects and each leader's rationale for them include:
– Mairi Albertson, a senior program administrator for the city of Memphis Division of Housing and Community Development, wants to improve the railroad underpass at Mississippi Boulevard between East Georgia Avenue and East E.H. Crump Boulevard, south of Booker T. Washintgton High School.
Albertson is proposing signage on both sides of the underpass, lighting and a public art component, tying into the area's history and culture. The underpass is scheduled to be paved by the city soon.
"It is located in a key area of the South City redevelopment area that the city and the housing authority are a part of," Albertson said. "This particular underpass is near very important landmarks in the community, including B.T.W., but also Paradise (Entertainment) Center. We are putting in a new park at L.E.  Brown Park. There is the new housing development at Foote Homes that is underway, as well as the recently completed new housing at Cleaborne Pointe. So, making an improvement to this key gateway into and out of the community, we think, is very important."
– Greg Dotson's project is a Martin Luther King. Jr. Riverside Park connector. Dotson is vice president-engineer manager at Neel-Schaffer Inc., a civil engineering company.
Dotson's project would make a connection, via shared, protected bike lanes, from MLK Park to the Memphis and Mississippi River parks to the north. This project would take advantage of the city's paving schedule.
"There's one little piece that's going to take some effort in terms of design, and it's around the Port Commission, so what we're going to have to do there is some traffic calming," he said.
Chickasaw Heritage Park, the National Ornamental Metal Museum and French Fort are all located along the route.
– Stephen Edwards, a transportation planning and design engineer with the city of Memphis Division of Engineering, wants to do traffic calming and placemaking on Willie Mitchell Boulevard.
"Our goal is to design and develop something that will cater to the environment," Edwards said. "You have Royal Studios there, and a number of other businesses that are existing. You have some vacant lots and some other things that are not really places that people to go to visit."
Edwards wants to show off historical sites that should be celebrated. So creating elements that will lead people to Royal Records, for example, is the goal. It will also add a vibrancy where other jobs and businesses can tie into the improvements made, he said.
– Marlon Foster, founding CEO of Knowledge Quest, wants to create bike pump tracks.
"At Knowledge Quest, good health and fitness and nutrition is a part of our value set, and also trying to activate neighborhood parks in South Memphis," Foster said. "So, looking at all of the energy around Big Jump, around Explore Bike Share and cycling, and all of the trail work, looking at a bike pump track as a way to activate cycling, promote fitness and to promote activation of the park, all through one venue."
Foster wants to put this bike pump track on a park in South Memphis that is off of a bike trail.
– Rebecca Matlock Hutchinson, director of SCORE CDC, a new community development corporation in South City, and a volunteer site director at Soulsville USA, wants to put something called a bicycle safety town in South City. Ideally in L.E. Brown Park across from Georgia Avenue Elementary School. SCORE is an acronym for South City – A Community of Opportunity, Revitalization and Empowerment.
Hutchinson said the bicycle safety town would be a modern takeoff on the old safety town created many years ago in the parking lot of Southland Mall.
"There were miniature houses, miniature police stations, miniature schools. There were stop signs, there were lanes, there were streets and it was surrounded by a white picket fence," she said. "And it had an active working traffic sign."
Hutchinson said it enabled children to learn to ride bicycles and tricycles in a safe environment. The bicycle safety town would be a miniature version of a neighborhood located there, Hutchinson said. It could be something that is duplicated in other areas of the city.
– Eric Neimeyer, a community development specialist for The Works Inc., has a project idea for the demonstration project on Walker Avenue that Oyler referenced. The street would try out various traffic-calming techniques for a couple of weeks at a time. They could include things like traffic circles or advisory bike lanes.
With so many community places along Walker from Third Street to Mississippi Boulevard, such as Knowledge Quest, Ida B. Wells Academy, and a park and library at Gaston Park, it's a street that has a lot of activity and children.
"It really doesn't have any infrastructure to calm down traffic," Neimeyer said. "Even though it's a neighborhood street, it gets treated as a cut-through street a lot of the time."
Walker Avenue is scheduled to be repaved next year, so the successful iteration of Neimeyer's demonstration project would become permanent at that time.
"We will be working together with residents of the street to help us design it, get their input," Oyler said. "It will be entirely a test, a one-month test, that Eric (Neimeyer) is going to run and manage."
After that test, depending on how well it goes and feedback they get from residents and data from city engineering, permanent improvements on the street could be made. In addition to resurfacing the street, the hope is to install some traffic islands, "maybe some bump-outs at intersections near the elementary school, maybe those advisory bike lanes." 
– Lyndsey Pender, a research and evaluation specialist for The Works, is leading a project to create an active transportation advocacy group in South Memphis.
"Active transportation simply refers to any form of human-powered transportation," Pender said. "So, biking, walking, using a wheelchair, using roller skates or roller blades, or a scooter."
Through the group, Pender hopes to garner support from the South Memphis community for the other related projects, raise awareness of the area and account for issues and concerns in their implementation. The group also will assist with South Memphis Glide Rides. The group is open to those who live in, work in, or have an interest in the South Memphis area.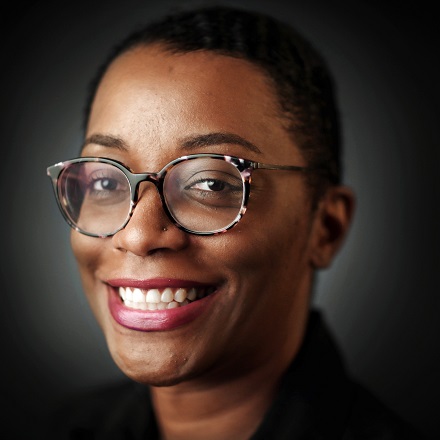 Elle Perry
Elle Perry covers arts and culture and other news for the Daily Memphian. She is a native of Memphis and a two-time graduate of the University of Memphis. Elle previously worked for the Memphis Business Journal and has written for publications including The Memphis Flyer and High Ground News.
---