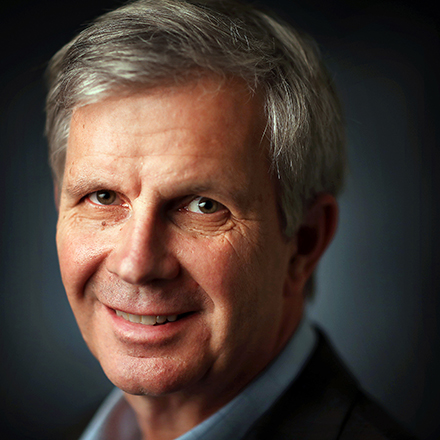 Geoff Calkins
Geoff Calkins has been chronicling Memphis and Memphis sports for more than two decades. He is host of "The Geoff Calkins Show" from 9-11 a.m. M-F on 92.9 FM. Calkins has been named the best sports columnist in the country five times by the Associated Press sports editors, but still figures his best columns are about the people who make Memphis what it is.
Calkins: Memphis smashes UConn to remind us it's not just a basketball school
Darrell Henderson took the handoff, headed left, and what happened next was pure wizardry.
He sprinted around the first would-be tackler, who was diving at his feet. Then he made a jump cut back inside to avoid the second would-be tackler, who may still be wondering where in the world Henderson went. 
Henderson was accelerating now, heading down the sidelines, but a third would-be tackler had him all lined up. So Henderson cut inside again, and by now the Memphis fans were standing, in joy and disbelief, as Henderson sped into the open field, outran a fifth would-be tackler and wound up in the left corner of the end zone where — how about this? — Anthony Miller waited to congratulate him for the 61-yard touchdown run.
It was an effort worthy of Miller himself.
It was a timely reminder, too.
Memphis is not a basketball school. Or, Memphis is not just a basketball school. Memphis football has not ended because Memphis basketball has started. It is possible to be pumped about Memphis Madness and about Memphis football's 55-14 win over Connecticut at the Liberty Bowl Saturday, too.
But you wouldn't know it from some of the conversation this past week, would you? From the eagerness to move on from football to hoops in the wake of last week's disappointing loss to Tulane. It's as if Memphians think they can only embrace one Tiger team at a time.
When John Calipari was on campus, Memphis largely ignored the football program in favor of basketball. The last few years, Memphis fans have fallen in love with football while turning their backs on hoops. Now Memphis basketball is blisteringly hot again and the football program lost a couple games it shouldn't have lost. So it feels like we could be swinging back toward the Calipari era.
That would be misguided and not just because the goal should be excellence at both sports. Football will always be more important than basketball when it comes to realignment and television bucks.
Beyond that, all the recent talk about moving on to basketball season is a disservice to everything the football program has accomplished over the last several years.
Yes, Memphis lost games to Navy and Tulane. Yes, those losses were disappointing.
But let's recall the years 2010 and 2011 for moment, when the Memphis football team went 3-21 and scored 20 or more points in a game just six times.
Those Memphis teams lost to Arkansas State by a score of 47-3, to Rice by a score of 28-6, and to SMU by a score of 42-0.
These Memphis teams — the Memphis teams of the last four-plus years — have gone 41-17 while scoring 30 or more points 31 times, 50 or more points 18 times, 60 or more points nine times and 70 or more points three times.
The transformation is as breathtaking as Henderson's touchdown run. And it's been just about as quick.
So, yes, there have been dispiriting losses. But that's no reason to dismiss the progress that has been made. Saturday was a reminder of that, from the exuberant scene on Tiger Lane that unfolded all afternoon to the emphatic victory at night.
Henderson ran 14 times for 174 yards. Patrick Taylor ran 11 times for 161. Asked if they had come up a nickname for themselves, Henderson offered up "Two-headed monster," which certainly works.
Meanwhile, Memphis quarterback Brady White completed 16 of 18 passes for 239 yards, and one of the incompletions was a drop. Two of the completions were to Sam Craft, the sixth-year Tiger, who hadn't caught or carried a football since October, 2016.
"I don't know if Sam was more excited or I was more excited," Norvell said. 
How about we call it a draw?
It was that sort of feel-good night at the Liberty Bowl, that sort of reminder of how much fun football can be. No question, the Memphis basketball program will always have certain advantages over the football program, even apart from history. The basketball program can compete for national titles under the current structure. The football program cannot.
But that didn't seem to slow down Henderson any. That didn't make it any less thrilling to watch him run. 
Memphis may once again be a basketball school. But Memphis has surely turned itself into a football school.
The Tigers reminded us of that Saturday night.
---