TBI continuing investigation into chaotic officer-involved Frayser shooting death
The Tennessee Bureau of Investigation continued its probe Thursday into a Wednesday night officer-involved shooting in the Frayser area that left a 20-year-old man dead and sparked a chaotic confrontation between law enforcement and an angry crowd.
TBI Thursday morning confirmed the identity of the victim as Brandon Webber, 20. Members of Webber's family said at the scene Wednesday that he was shot as many as 20 times, but authorities did not confirm the number of shots fired in the information they provided.
Several police officers received minor injuries from flying debris.
The incident began in the early evening as the U.S. Marshals-Gulf Coast Regional Fugitive Task Force searched for a suspect "wanted on multiple warrants," according to TBI. They spotted the man getting into a vehicle outside of a residence.
"While attempting to stop the individual," a TBI release stated, "he reportedly rammed his vehicle into the officers' vehicles multiple times before exiting with a weapon. The officers fired striking and killing the individual. No officers were injured."
Memphis police were called for assistance with crowd and traffic control initially, but the scene quickly escalated as members of the public heard what happened and began gathering.
By 11 p.m. Wednesday, rain and tear gas had largely dispersed the crowd as officers on horseback patrolled. But in the preceding hours, the agitated onlookers and police clashed in a volatile situation that drew national attention. The national NAACP tweeted that it was monitoring the developments.
TBI took over the scene since a law enforcement officer was involved in a shooting but provided no information until the early morning hours Thursday. At that time, Keli McAlister, TBI's public information officer for this region, issued a statement saying the situation began about 7 p.m. in the 2700 block of Durham Street.
The victim's cousin, Demetrick Skinner, said Webber was fatally shot and that as many as 20 shots were fired at him.
Webber's aunt, Yolanda Holmes, added that police claimed he was shooting at an officer but the family was trying to confirm details Wednesday evening before the TBI's statement was released.
The tense Frayser situation came against a backdrop of heightened emotions locally and nationally over police shootings.
MPD emphasized in a tweet that its officers were not involved in the shooting.
MEDIA: TBI Agents are responding to scene of an officer-involved shooting in the 2000 block of Durham in Memphis involving members of the Gulf Coast Regional Fugitive Task Force, US Marshal Service. PIO @TBIKeli is headed to the scene & will provide additional info when possible pic.twitter.com/ZR3BDtTKje

— TBI (@TBInvestigation) June 13, 2019
According to the U.S. Marshals Service website, the Gulf Coast Regional Fugitive Task Force works from offices throughout Alabama and Mississippi. The task force headquarters is in Birmingham, Alabama.
The intense scene became chaotic when some of those gathered at the scene started throwing rocks, swinging chairs into MPD squad cars and breaking windows in police vehicles. Memphis Mayor Jim Strickland said about two dozen law enforcement officers received injuries during the disturbance, six of them taken to the hospital for treatment.
" frameborder="0" allow="autoplay; encrypted-media" allowfullscreen>
"I was proud of our first responders," Strickland wrote in a release. "I'm impressed by their professionalism and incredible restraint as they endured concrete rocks being thrown at them and people spitting at them."
The mayor said multiple police cars were damaged, a concrete wall outside of a business torn down, and the windows on a Memphis fire station shattered.
"Let me be clear," Strickland said in his statement, "the aggression shown towards our officers and deputies (Wednesday night) was unwarranted."
More than 30 law enforcement units converged on the scene as the angry crowds gathered. Cars sped toward officers before swerving off, and a police helicopter flew overhead shining lights on the street. Police used loudspeakers telling the crowd to disperse.
"This is crazy," Skinner said.
MPD Deputy Director Mike Ryall said the area of Overton Crossing and Argonne Street, where people were throwing rocks, was considered a crime scene. Crime scene officers were on their way about 10:30 p.m. to investigate.
Police began using tear gas to disperse the crowd shortly before 10 p.m. Several media members were hit by the tear gas or shoved by the angry crowds.
State Rep. Antonio Parkinson, a Memphis Democrat whose district includes Frayser, posted a statement on Instagram.
"Our thoughts and prayers go out to all involved in the incident in Frayser," Parkinson said. "The Frayser community is comprised of good, hard working people who love their community.
"The community wants answers into tonight's incident. We are asking for calm and restraint by all and complete transparency in the investigation of tonight's officer involved shooting."
McAlister of the TBI said in her early morning statement that investigators continued to conduct interviews and gather evidence on the officer-involved shooting.
"As in any case, TBI's investigative findings will be shared with the District Attorney General throughout the process for her review," the agency said.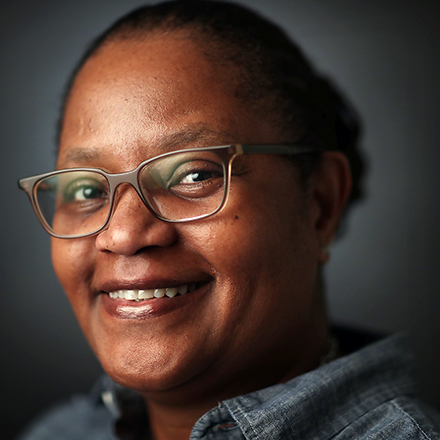 Yolanda Jones
Yolanda Jones covers criminal justice issues and general assignment news for The Daily Memphian. She previously was a reporter at The Commercial Appeal.
---