Make a Buche de Noel for the holidays
Most every family has a traditional Christmas sweet. Maybe it's cookies at your house, maybe a red velvet cake at your mother's, quite possibly a fruit cake somewhere.
But in France, there's one dessert, says Interim pastry chef Franck Oysel.
"It's a yule log," he said. "In all the shops, it's yule log, yule log."
Buche de Noel is the French name for the dessert that resembles the log traditionally placed on the fire to burn on Christmas Eve. It's a thin sponge cake, frosted inside, rolled, then frosted and decorated on the outside.
"It's simple, but at the same time, it's technical," Oysel said. Watching the video at the end of this article will make it much easier for you should you decide to make a yule log at home. You can also order one from the restaurant, but they're in limited supply. (See note at bottom of article to find out how to order.)
Oysel moved to Memphis about five years ago, a pastry chef with six years of formal study plus plenty of work experience. He met his wife, Hannah, a native Memphian, when she taught English in France.
He arrived looking for work and ended up talking to French master chef Jose Gutierrez, chef/owner at River Oaks Restaurant.
"I couldn't afford him full time because pastry chefs cost too much money, but I said why not work for me three days," Gutierrez said. "Then I called Jason Dallas, who was at Interim, and Franck went there three days, too."
Gutierrez didn't know Oysel, but he'd worked in Jura, France, Oysel's hometown near the border of Switzerland.
"I knew the pastry chef he worked with, and I knew that if he worked for him, he had to be very good – and of course, he is."
About two years ago, he went to work at Interim full time.
"I hate to see him go, but what could I do?" Gutierrez said.
Oysel, 34, is the son of a chef and at 10, baked the difficult croquembouche for his sister's birthday. It's a stacked tower of creampuffs wrapped in strands of sugar, a feat for accomplished bakers and certainly an undertaking for a child.
"It was nice. My father taught me, so I had help and it was OK," Oysel said.
It convinced him he wanted to be a pastry chef, and by 14 he was studying.
Since then, he estimates he's baked about 60,000 yule logs.
"That was 20 years ago and I say I did maybe 3,000 a year," he said.
The one he made for us is traditional, but there is a fancier one that employs a mold and stacking of pastries with icing; it's not something to attempt at home, he said.
And while we went with chocolate/chocolate, you can use yellow sponge cake if you prefer, and buttercream instead of ganache if that's what you like.
Here are some tips:
If you're not going to measure your ingredients for the cake, don't bother, Oysel says. Buy an inexpensive food scale, but don't expect to bake using cup measurements instead of grams and get the same result. 
After brushing the syrup and the inside layer of icing on the cake, roll it toward yourself, using the parchment paper to help. Be sure to "tighten" your log as demonstrated in the video. With the log still in the parchment paper, firmly press the side of a baking sheet against the edge of the log while gently holding the parchment paper to keep the log from moving.
Refrigerate the filled log before your frost the outside. You don't want the icing inside to get soft and for the log to flatten.
Frost to give it a rustic look, not a smooth one. You can drag the tines of a fork through the icing if you like.
Be sure to refrigerate for at least an hour before serving. A cold cake is easier to cut.
The best tip of all? Order your yule log from Oysel by calling Interim at 901-818-0821. He'll take orders through Dec. 10. The 9-inch yule logs (slightly smaller than the one in the video) are $40.
Buche de Noel (Yule Log)
Cake
---
Preheat oven to 350 degrees. Whip the egg whites and 65 grams sugar until firm but not dry. Add 65 grams sugar to egg yolks and beat well. Fold yolks into whites and mix well, until there are no streaks. Sift flour, corn starch and cocoa powder together. Pour out on an 11-by-17 baking sheet and bake at 350 degrees for about 10 minutes, until done. Set aside. (Use a convection oven if you have it; if not, you'll need to increase cooking time by a few minutes.)
Syrup
---
Bring water and sugar to a boil until sugar melts, which is almost instantly. Add liqueur and set aside.
Ganache
---
Bring cream to boil with vanilla bean. Add chocolate and mix well. Allow to cool.
ASSEMBLY
On work surface, place cake (still on parchment paper) in front of you. Brush top with sugar syrup, then pipe or spread a layer of ganache. Rolling toward you, roll the log as tightly as possible then tighten it using the method in the tips and shown in the video. Place log seam side down on a serving platter. Pipe or spread frosting on outside, roughing it up a bit for a rustic look. Decorate with fondant mushrooms as shown in video, then dust with cocoa powder and confectioners' sugar.
Source: Franck Oysel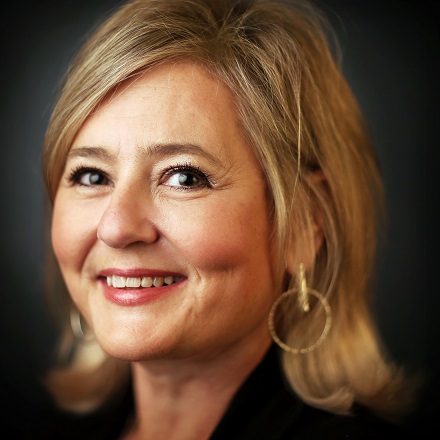 Jennifer Biggs
Jennifer Biggs is a native Memphian and veteran food writer and journalist who covers all things food, dining and spirits related for The Daily Memphian.
---