Judge tells Sherra Wright attorneys not to sell Shelby jurors short in setting May 28 court date
Shelby County Criminal Court Judge Lee Coffee Friday told attorneys for Sherra Wright and Billy Ray Turner not to sell Shelby County jurors short in requesting a jury from another county to hear the murder case against them in the death of Wright's ex-husband, Lorenzen Wright Jr.
Coffee set a May 28 court date to decide on the request.  Wright and Turner were back in court Friday to find out about the change of venue motion and a plethora of other motions the defense filed in the case over the past month.
Wright's attorney, Juni Ganguli and Laura Hall, explained Jan. 24 that the change of venue motion did not mean they want to move the trial to another city. Instead, the motion is to bring a jury from Davidson County to Memphis to ensure Wright receives a fair trial because of the avalanche of publicity.
But Coffee told the defense attorneys during Friday's report hearing that Shelby County jurors are no stranger in dealing with first-degree murder trials because there are between 180 to 220 homicides in the county each year, and he thinks they can be fair in the Lorenzen Wright murder case.
"If you added up the number of first-degree murder cases in Shelby County it would exceed the numbers in Knox County, Davidson County and whatever the next largest county is in the state of Tennessee," Coffee said. "And given the nature of cases in Shelby County, I would ask that lawyers don't underestimate the ability of jurors in Shelby County to be fair to both sides in this case."
He pointed to the recent murder trial of Tremaine Wilbourn convicted of killing Memphis police officer Sean Bolton as an example of a Shelby County jury fairly hearing a case.  
"If there is some overwhelming reasons to transfer or change venue in this case I will listen to it, but in the 12 ½ years I have been a judge in Shelby County I have not seen a case that I've tried and I have tired a lot of high publicity cases in which jurors said 'Judge Coffee, we can not be fair on a particular case."
If the motion is ultimately approved, it will be the second time a Shelby County judge has approved an outside jury panel due to publicity.
The first time was for the Lester Street murder trial of Jessie Dotson in 2010. Judge James Beasley Jr. granted the defense request to bring in an outside panel in that case, which was the worst mass murder in the county's history. Dotson was sentenced to death after he was convicted of killing his brother, Cecil, and five others inside a Binghampton home on Lester Street.
During Friday's report hearing, the judge also set a trial date of June 17 for Turner's separate gun charges. Turner, a convicted felon, had two guns at his home when he was arrested in connection with the fatal shooting of Lorenzen Wright.
Turner and Sherra Wright will be tried on Sept. 16 in Lorenzen Wright's slaying, and his mother Deborah Marion is ready for the trial to get underway.
Wearing a bracelet with her son's picture on it, Marion told reporters that the change of venue does not matter to her. She just wants justice for her son. 
"I waited seven years; I can wait seven months with no problem," Marion said. "I don't care where they go, they will get the same trial.
"They can go to Chinatown, it's gone be the same verdict. Move it for what? You don't want to see nobody you know up in the jury. I want justice for him."
Wright, along with Turner, was charged in 2017 in connection with the fatal shooting of her ex-husband, seven years after the NBA star's body was found in July 2010.
Both Sherra Wright and Turner have pleaded not guilty to first-degree murder, conspiracy to commit first-degree murder and attempted first-degree murder.
Wright's bond is $20 million and Turner's bond is $15 million. They both remain in jail unable to post bond.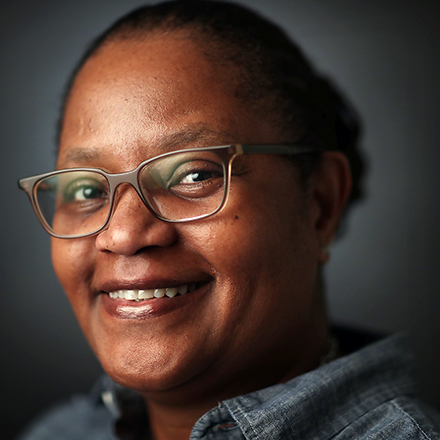 Yolanda Jones
Yolanda Jones covers criminal justice issues and general assignment news for The Daily Memphian. She previously was a reporter at The Commercial Appeal.
---