'Arrow at Overton' targets Rust Hall
The proposal to turn Overton Park's Rust Hall into a one-roof arts district for both creatives and art lovers has been rebranded "Arrow at Overton."
Memphis Area Creative Collaborative founders Abby Phillips and Dorothy Collier unveiled their latest plans and branding this week to more than 40 artists who attended an informational meeting Monday at Railgarten.
Memphis College of Art will close and vacate the 78,000-square-foot Rust Hall after the May 2020 graduation.
The city of Memphis, which owns the parkland and will control the building after the school closes, will consider competing proposals from potential users later this year.
So far, the only other organization to publicly declare a desire to take over Rust Hall is the Metal Museum. That organization proposes to expand into Rust Hall with a $21 million renovation for a museum and education center.
Arrow at Overton proposes a phased, $12 million renovation and to fill the extraordinary building – honored by Memphis architects as the best design of the 1950s – with more than 40 rental studios for creatives, art workshops, micro-retail for art sales, galleries, a restaurant, meeting spaces, classrooms for continuing education in the arts, and offices for art nonprofits.
Attendees at Arrow's hourlong informational meeting filled out surveys asking to identify their biggest needs as creatives and gauging their interest in supporting Arrow as a volunteer, renting studio space, or becoming an Arrow member to share art-making equipment.
"Of those 40 surveys last night, 20 said they'd like individual studio spaces," Collier said Tuesday. "That's half. We're not worried about filling the spaces."
Arrow at Overton plans two more information meetings, 6 p.m. Feb. 25 at Railgarten and 11:30 a.m. Feb. 26 at Memphis Fashion Design Lab, 64 Flicker.
Among the artists – Phillips and Collier refer to them as "creatives" – attending the info session were painters, jewelry makers, ceramic artists, graphic designers, bloggers, filmmakers and fashion designers.
"I feel those who showed up last night were incredibly representative of what this building entails," Phillips said.
During the informational meeting, Collier and Phillips spoke in front of a slideshow of images showing the new Arrow logos, renderings of what the renovated spaces may look like and descriptions of what Arrow at Overton would offer for creatives, art consumers, park-goers, art hobbyists and art organizations.
Phillips and Collier hope to learn by July whether the city will give the Rust Hall keys to Arrow. The first phase of renovations would start soon after that, and creatives could start moving into their studio spaces in 2021.
The organization has already raised more than $1 million and is ramping up its fundraising, Phillips said, adding Arrow will emerge whether it's at Rust Hall or somewhere else.
"We're also actively looking for Plan B's," she said at the meeting.
However, Phillips said their hopes about getting Rust Hall grew after reading the findings of a city-led survey gauging the community's wants and needs regarding the future of Rust Hall.
"We hit eight or nine out of 10 of their needs," said Phillips, who is founder of Memphis Fashion Week, the Memphis Fashion Design Network and a fashion co-working space called The Lab.
"To us, what we have built is really built based on community need and how we can strengthen the Overton Park art community," she said.
Arrow at Overton would comprise two pillars: One is programmed space that draws the community into the building, and the other is the support for artists/creatives to create and succeed financially.
The 40-plus studio spaces will be leased for six-month terms at a "dirt cheap" rate of $2.50 per square foot, Collier said.
The studios are designed to meet a need that is common to many creatives who struggle to find space that is affordable, functional and visible to potential customers, she said.
"My studio is my third bedroom," said Collier, who has a fine arts business, Dorothy Art. "I could rent space for $300 to $500 (a month). But most are off the beaten path. The general public doesn't know they are there."
The studios will have glass walls so that passersby can watch the art-making, but curtains can be drawn for privacy.
The "community pillar" includes a planned restaurant on the ground floor that opens both outside to the park and inside, continuing education classes in all types of art-making, gallery spaces, micro-retail, and gathering spaces.
The name of the nonprofit leading the project – Memphis Area Creative Collaborative – was a "mouthful," which is why the effort was rebranded to Arrow at Overton, said Lexie Shaunak of Paradigm Marketing and Creative.
"We want to make sure we had something accessible, it felt comfortable and didn't have much pretense," she said at the informational meeting.
"Arrow" will point the city in the right direction, draw people in and launch them back out, she said. "Playing on the idea of energy and tension and action."
The zigzagging style of the letters in the "Arrow" logo allude to Rust Hall's zigzagging roofline created by the architecture firm Mann & Harrover.
"Arrow" also relates to the organization's new tagline aimed at artists: "Making it is no longer a long shot."
Rust Hall's neighbor, the Memphis Brooks Museum of Art building, also is to be vacated, in 2023-24, when the museum moves into a planned building Downtown.
The city has organized a comprehensive "re-imagining" effort called Project Overton Park (POP) to chart the future of both buildings as well as the park itself.
For more information, visit thecreativememphis.org and pop.memphistn.gov.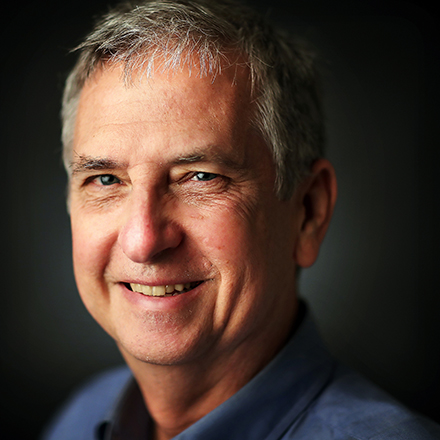 Tom Bailey
Tom Bailey covers business news for The Daily Memphian. A Tupelo, Mississippi, native, he graduated from Mississippi State University. He's worked in journalism for 40 years and has lived in Midtown for 36 years.
---