Playoff roundup: Whitehaven blanks Germantown to advance to 6A semifinals
Forget the turkey and pumpkin pie. This Thanksgiving, Whitehaven is serving up donuts.
Behind a punishing ground game and an outstanding defense, the Tigers blanked host Germantown, 14-0, Friday to advance to next week's Class 6A semifinals. Whitehaven (10-3) will host Ravenwood, which eliminated Brentwood, 47-24, on the day after Thanksgiving.
It's the eighth time in nine years the Tigers have advanced to the semifinals. Germantown, which defeated Whitehaven 37-19 on Oct. 26, ends the year 12-1.
Rodney Saulsberry said that now that his team has gotten healthy--and gotten its academics in order--it's a whole new ball game. Several starters missed the first Germantown game due to grade issues.
"We stand on our principles," Saulsberry said. "Some guys had to set out that game because of academics and I think in the long term that will make them better. But those guys being back this week ... it really showed on the field because it brought our whole unit together.
"We're almost 100 percent with everybody playing so I like the way our team is going."
There was lots to like. Keyshawn Harris guided the offense effectively and opened the scoring with a 10-yard pass to Vanderbilt commit Devin Boddie on the first play of the second quarter. Cameron Sneed ran the ball effectively before giving way to Marcus Taylor, who punched it in from the 1 with three minutes to go in the third.
Defensively though was where the Tigers really stood out. Whitehaven forced five turnovers while handing Germantown its first shutout since 2016. Joshua Exom recovered two fumbles while Maceo Boyd intercepted a pass.
And the Tigers' unsung hero may have been punter Tamarion McDonald, who pinned Germantown inside its own 15 three times.
"We just focused on getting our assignments done," said Saulsberry. "We've been breaking down on defense with our execution and we went back ... we call our defense the GETTO defense and that's Getting Everyone Thinking Together as One. We went back to the basics.
"We just focused on getting our jobs done and when everybody plays together and stays together, great things happen."
Added two-way standout Keveon Mullins, "We knew we were a better team and we just came out and showed it."
The turnovers, and some critical penalties, hurt Germantown's chances against a team that already had the advantage physically and size-wise.
"I thought they came ready to play," said Red Devils coach Chris Smith. "They brought it to us a little bit and we were uncharacteristic ourselves. Five turnovers, two on special teams and every time we tried to get something going it seemed like there was a turnover or a penalty.
"It's tough. We had some guys banged up ... but you can't give a good defense any help."
Whitehaven and Ravenwood have some recent semifinal history. The Raptors visited Whitehaven in 2014, winning 24-14, before defeating the Tigers 20-13 the following season. Ravenwood is 10-2 this season.
"We love practicing on Thanksgiving," said Saulsberry. "And we love having turkey after practice."
And donuts for dessert.
Class 5A
Henry County 42, Kirby 20
Notable: Despite two touchdown passes from Jaden Johnson, the most successful season in Kirby history came to an end with a loss to the Patriots. ... The Cougars (11-2) trailed 21-14 after Johnson threw a 51-yard score on the first possession of the second half. ... The Patriots (12-1) then responded with a 1-yard run from Jermarcus Johnson to make it 28-14. Jaylen Foster then delivered the backbreaker with a 96-yard touchdown run.
Class 3A
Covington 22, Milan 0
Notable: The Chargers (13-0) blanked the Bulldogs, putting them one victory away from their second consecutive trip to the BlueCross Bowl. ... Brock Lomax opened the scoring for Covington with a 33-yard run in the second quarter before KeShun Gant made it 15-0 with a third-quarter score. ... Marcus Page then ran for a 50-yard touchdown in the fourth before Breshun Dyson ended any hopes of a Milan rally with an interception at the 7:18 mark. ... In the semifinals, Covington will host Nashville Stratford, which is the only team still alive that has a losing record. The Spartans went 2-8 during the regular season but defeated Camden in the first round, Pearl-Cohn in the second and Fairview, 26-14, in the quarterfinals.
Class 1A
Lake County 52, Freedom Prep 33
Notable: The War Eagles, in just their second season of varsity football, end the year 9-4 after falling to Lake County for the second time this year. ... Quincy Briggs, who took over at quarterback when star freshman Tevin Carter was injured in the first half, finished with 165 yards on 10 carries while scoring on runs of 5 and 86. He also threw a 29-yard touchdown to Temerius Bell. ... Freedom Prep's Courtney Tate added 101 yards on the ground and scored on 58-yard run. ... Mr. Football finalist Dezmon Johnson led Lake County with 163 rushing yards and three touchdowns while also catching a 36-yard scoring pass.
Division 2-AAA
MUS 10, Chattanooga McCallie 7
Notable: Hunter Kendall's 2-yard run with 9:13 to go in the game lifted the Owls (12-0) over the Blue Tornado and into the state championship game for the first time since 2013. ... Defensively, the Owls held McCallie to 204 yards (133 rushing, 71 passing). It's the sixth time this season MUS has held an opponenent to a touchdown or less. ... In the Nov. 30 championship game in Cookeville, MUS will face Brentwood Academy (10-2), which advanced with a 28-6 victory over Montgomery Bell Academy.
Division 2-AA
Christ Presbyterian Academy 21, Lausanne 14
Notable: The Lynx's state-long 38-game winning streak came to an end almost three years to the day of their last loss, which came against St. George's on Nov. 13, 2015. CPA (13-0) takes on Battle Ground Academy in the state title game on Nov. 30. Lausanne ends the year 11-1. The Lynx were bidding to become the first school from Shelby County to win three straight state championships.
Division 2-A
Friendship Christian 14, Fayette Academy 7
Notable: Friendship Christian's highly-regarded defense lived up to its billing, keeping the high-scoring Vikings offense out of the end zone. ... Fayette Academy went into the contest averaging 42.6 per game but got it's only score on a pick-six from Reid Holland in the second quarter. ... The Vikings end the season 10-2.
MHSAA 6A
Horn Lake 35, Starkville 14
Notable: Quarterback Raydarius Jones opened the scoring with a 90-yard touchdown run as the Eagles improved to 13-0. Jones later added a 49-yard scoring run while Nakobe Dean scored on runs of 13 and 2 yards. ... Horn Lake hosts Madison Central in next week's North Half title game.
MHSAA 5A
Olive Branch 21, Holmes County Central 0
Notable: The Quistors improved to 12-1 and advanced to next week's North Half title game at West Point. The teams played during the regular season on Oct. 12 with West Point (12-1) handing Olive Branch its lone loss, 34-33. ... Cameron Mosley ran for two touchdowns for the Quistors while Gary Banks had the other. ... Due to poor field conditions, the game was played at Yazoo City.
Box scores
Lake County 52, Freedom Prep 33
LC-Johnson 36 pass from Snyder (Matheny pass from Snyder)
LC-Tubbs 48 run (Snyder run)
FP-Jose Diaz 28 FG
LC-Snyder 6 run (Tubbs pass from Snyder)
FP-Quincy Briggs 5 run (kick failed)
LC-Johnson 8 run (Snyder run)
FP-Courtney Tate 58 run (Dylan Holmes pass from Briggs)
LC-Snyder 2 run (Holmes pass from Snyder)
LC-Johnson 10 run (kick failed)
FP-Briggs 86 run (Demerius Brooks pass from Briggs)
LC-Johnson 2 run (run failed)
FP-Tamerius Bell 29 pass from Briggs (Briggs run)
First downs: Lake County 15; Freedom Prep 13
Team rushing: Lake County 299; Freedom Prep 210
Team passing: Lake County 4-7-95-0; Freedom Prep 7-22-84-1
Lake County rushing: Johnson 29-163; Snyder 12-94; Tubbs 4-54
Freedom Prep rushing: Quincy Briggs 10-165; Courtney Tate 14-101; Tevin Carter 3-44
Lake County passing: Snyder 3-6-48-0; Johnson 1-1-47-0
Freedom Prep passing: Tevin Carter 3-8-52-0; Quincy Briggs 3-12-36-1; Anthony Walker 1-1-(-4)-0; Demerius Brooks 0-1-0-0
Lake County receiving: Puckett 3-59; Johnson 1-36
Freedom Prep receiving: Temerius Bell 2-31; Anthony Walker 1-35; Courtney Tate 1-12; Cleaves 1-5; Quincy Briggs 1-(-4)
Records: Lake County 12-1; Freedom Prep 9-4
MUS 10, Chattanooga McCallie 7
MUS-George Howard 28 FG
McCallie-DeAngelo Hardy 21 run (Stone Roebuck kick)
MUS-Hunter Kendall 2 run (Howard kick)
First downs: McCallie 9, MUS 17
Team rushing: McCallie 40-133; MUS 29-35
Team passing: McCallie 6-16-71-0; MUS 22-34-258-2
McCallie rushing: DeAngelo Hardy 23-84; Stone Roebuck 10-36; B.J. Harris 6-14; team 1-(-1)
MUS rushing: Hunter Kendall 17-69; team 2-(-14); Sellers Shy 10-(-20)
McCallie passing: DeAngelo Hardy 6-16-71-0
MUS passing: Sellers Shy 22-34-258-2
McCallie receiving: Brandon Benn 1-38; Shannon Walker 1-12; John Hardy 1-10; Stone Roebuck 1-7; Kameron Watson 1-4; Thompson Byrd 1-0
MUS receiving: Jalen Hollimon 7-81; Thomas Hayden 5-71; Maurice Hampton 4-35; Matthew Rogers 2-18; Hunter Kendall 2-12; Roderic Lewis 1-17; Scott Burnett 1-16
Records: McCallie 10-2; MUS 11-0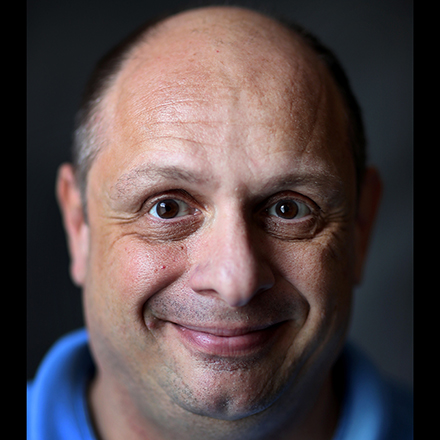 John Varlas
John Varlas is a lifelong Memphian who has covered high school sports in various capacities for over 20 years.
---