Small but thriving high school water polo community isn't for the faint of heart – or the selfish
They've heard all the jokes. "How do you get the horses in the pool?" or "You mean, like, Marco Polo?"
Or if it's not jokes, it's simply a blank stare. Once in a while, they'll run across a person who has seen water polo on television during the Olympics, and that person will have a vague understanding of their sport.
No matter. Because perhaps more than any other high school sport in town, the city's small but thriving community of prep water polo athletes plays not for scholarships and certainly not for the glory. Instead, it's the shared experience of getting dunked, treading water for long stretches, going through tedious prematch fingernail checks and, ultimately, putting the ball in the net that brings the players together.
And it's not for the faint of heart.
"It's really violent," said Arlington junior Sarah Straub. "And that's what got my attention … I get in trouble a lot for being too aggressive."
Water polo indeed seems well-suited with Memphis' grit-grind sports mentality. Beginning Friday, five Memphis teams – St. George's, Arlington, Collierville, CBHS and St. Benedict – will be in Huntsville, Alabama, to compete in the Tennessee Interscholastic Water Polo state tournament. It's the sixth year for the state tournament, which is in Huntsville because of the lack of adequate facilities in Tennessee.
In fact – once you get away from California – you are hard-pressed to find water polo facilities anywhere. Outside of small pockets here and there, particularly in the Northeast, it's a relatively unknown sport.
In Memphis, the high school game developed out of the Bluff City Water Polo Club headed by Kevin Heinrich, who grew up in Hawaii and played on the club level while attending the University of Tennessee. He also serves as western director of the officials' association.
"We started as a master's (age-level) club," he said. "Then we had some high school guys that said, 'hey, I want to learn.' Then two kids became four kids that became 18 kids and then became 65 kids and all of a sudden we have this whole high school thing.
"We're just trying to support (water polo) and grow it and give these kids an opportunity to compete. It's a niche sport, which is kind of cool. You've got guys that play basketball but maybe they're not into basketball … or they can swim but maybe they're not the top 'A' guys. But like any team sport, the responsibility to the team is a big deal."
The basics are simple enough. On the high school level, games are divided into four six-minute quarters with a 30-second shot clock. The object of course is to throw the ball in the net and prevent the opposition from doing the same. Easy, right?
Not by a long shot.
"Especially in the South … a lot of people don't know what it is at all," said Arlington's Josie Raines. "It's a different sport, but you can relate it to a lot of sports. We set up like you do in basketball and we throw it around like you throw around a football. And the goal is basically like a soccer goal in the water.
"It is very complicated when you explain it, but when you actually watch it, it's a lot more simple."
It's a sport that requires a varied skill set as well. Obviously swimming is required; many of the players on Arlington's and St. George's' teams gravitated toward water polo because they swam competitively but were looking for a way to combine that with the team aspect. Endurance and strength are also paramount; players must tread water and aren't allowed to touch the bottom of the pool.
You have to be tough as well. Defenders are allowed to hold, block or pull the player in possession of the ball and protective equipment – with the exception of headgear – is non-existent. Hence the fingernail checks designed to prevent players from getting too scratched up.
And in Memphis at least, a lot of times it's the girls that are dealing out the punishment. The high school teams in Memphis are co-ed; at the present time, they're simply aren't enough players to field separate teams. The girls have to sink or swim against the guys and with water being the great equalizer, they're contributing heavily.
"It is very male-dominated in the South," said Raines. "But it gives you that sense of wanting to feel strong and be strong. You're out there with these guys and you're like, 'well, I can do the same thing that they can.' And then we play on (all-girls) teams in the summer and you go to places like Chicago where they've had girls teams for 16 years and they play better than our guys do."
Added Straub, "You would think guys are super-aggressive … but girls are feisty. They scratch you, they pull your hair, your cap, your suit, everything. And a lot guys don't like to be physically aggressive with a girl so the girl kind of has the advantage. Girls are like 'we don't care.' "
That attitude stays in the pool. Most athletes are advocates for their sport and the culture that surrounds it but the water polo players are on a different level. There's a true sense of community and camaraderie that threads its way through the players, coaches and organizers in Memphis.
"It's a good sport to be a part of," said St. George's coach Robyn Fernandez. "It's not super political, especially at the high school level so kids get to be a part of a team and it's not about who you know. It's about your ability and work ethic."
The players definitely work and there's nothing like a few up-and-outs to instill a foxhole mentality. Arlington's Arman Abdul explains the drill.
"You swim, like in a sprint, from one side of the pool to the other," he said. "Then you pop out, as a team, and do 10 squats, as a team. You count them out together, as a team, and pop back in. It's about doing it together, struggling together. If someone's lagging behind you're picking them up."
That was important to players like Taylor Keating. The 16-year-old home-schooler plays for St. George's and said he was looking for a sport that provided him with opportunities he wasn't getting in more traditional arenas.
"I've played soccer, I've played basketball, I've played baseball," he said. "Tennis. I've played a little bit of everything but they all required dry land and (they just weren't) as appealing.
"Water polo is very welcoming ... it's just a different type of sport. It requires a lot of commitment and I like to be a busy person and it helps me feel like I'm doing something with my life."
St. George's teammate Jacob Gettig agrees. 
"You can't do anything in water polo alone," he said. "There's so much camaraderie because there has to be. You have to know your teammates really well in order to be effective. And because it's such a small sport, there's no room not to have camaraderie."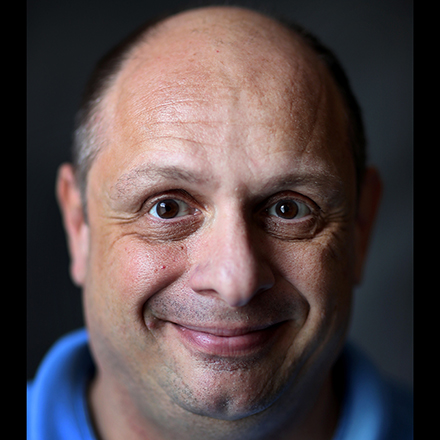 John Varlas
John Varlas is a lifelong Memphian who has covered high school sports in various capacities for over 20 years.
---