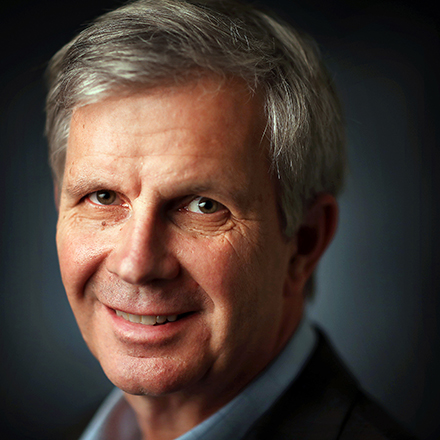 Geoff Calkins
Geoff Calkins has been chronicling Memphis and Memphis sports for more than two decades. He is host of "The Geoff Calkins Show" from 9-11 a.m. M-F on 92.9 FM. Calkins has been named the best sports columnist in the country five times by the Associated Press sports editors, but still figures his best columns are about the people who make Memphis what it is.
Calkins: Penny's first win 'felt like home'
Jeremiah Martin dropped in one 3-pointer, then he dropped in another 3-pointer, then FedExForum erupted in joy.
The biggest crowd in more than two years rose to celebrate the moment. More than 1,000 giant cardboard pennies — handed out during the pregame celebration — were hoisted aloft.
"It was a great moment," Martin said, later. "It felt like home."
Home, where college basketball is one of the ties that bind. 
Home, where kids grow up dreaming to play for the Memphis Tigers one day.
Home, where Larry Finch is both an icon and a civic fable.
Home, where a kid named Penny can grow up to be a star, and then return to be a head coach.
That kid — Penny Hardaway — got his first official win as head coach of the Memphis Tigers Tuesday night, as Memphis defeated Tennessee Tech, 76-61. And if the game served as a useful reminder that this team has a long way to go, it was worth savoring, nonetheless.
Hardaway even brought the game ball to his postgame press conference, and held it as he talked.
"It's definitely going in my office," he said. "The first win, yeah, it feels good."
That feeling began well before tipoff, as fans poured merrily into FedExForum. The official attendance was 15,231, meaning it was a bigger crowd than any during the Tubby Smith era, and the biggest since the final game of 2015-2016.
---
WADE: Penny's debut successful with the help of veterans; youngsters struggle
---
Drew Butler, who manages the Tiger Bookstore's booth at FedExForum, texted before the game even began to say the store had already sold more merchandise than it sold during all of last year.
Then the university started handing out those giant, cardboard pennies, which caused a ruckus in the crowd.
"I had to wrestle for it," said a fan named Lauren Cohn, who was only kidding, we think.
But that was the kind of exuberant spirit that filled the place, which was only amped up by the stylishly heart-pounding pregame video.  And then the game started, and Alex Lomax — fittingly — scored the first two points of the Hardaway era on a couple of free throws.
Less than five minutes later, Martin dropped in those two consecutive 3-pointers and — whatever the national election results — Memphis was swept up in a big blue wave.
"It felt like old times," said Hardaway, which was exactly right. It felt like old times and it looked like old times and it sounded like old times, too.
Indeed, Hardaway said that the only reason he wasn't hoarse after this game was because he bought an array of cough drops to help him yell over the crowd.
When's the last time a Memphis basketball coach needed cough drops?
A pin drop, is what we used to hear.
But this was loud and boisterous and fun and all the things that Memphis basketball is supposed to be.
And then, well, to use Hardaway's own words, "everything went downhill."
The basketball itself, is what he meant. That certainly went downhill. The Tigers were out-rebounded, 42-35. They shot just 6 of 24 from deep. They had more turnovers (14) than assists (13). They shot just 11 foul shots, compared to 29 for Tennessee Tech.
Thank heaven (or Tubby) for Kyvon Davenport, who carried the Tigers with a career-high 30 points and 10 rebounds. Martin added another 18 points. Indeed, all but 15 of the Tigers 76 points were scored by returning players.
"The freshmen were being freshmen tonight," said Hardaway, by which he meant, overwhelmed. Tyler Harris went 0 for 6 from the field and didn't score a point. David Wingett went 1 of 5 and Antwann Jones and Isaiah Maurice each went 1 of 4.
Those players are all too gifted not to figure things out as the season unfolds. But Tuesday's game should serve as a needed dose of perspective. Hardaway has talked openly about winning a national championship but he never said it's going to happen this year. If the Tigers don't play dramatically better in their next game at LSU, they'll get blown out of the gym.
But this night wasn't about any of that. This night was about the renewal and the joy. It was about the return of a Memphis legend and the return of a feeling that had been absent for far too long. So after the game was done, university president David Rudd joked on Twitter that he was going to get to work writing notes to all 15,231 who showed up.
"Welcome back," those notes could say. Or, better yet:  "Welcome home."
---