Whitehaven's Bynum taking a straight line to track success
When Emmanuel Bynum first began to take a serious interest in track as a ninth-grader, his coach suggested he try the hurdles.
The reasoning was sound; at 6-foot-4, Bynum is a long-strider who would seem to be ideally suited to clearing the 3-foot -tall barriers in his path. But Bynum's lower body parts had other ideas.
"It was just a regular meet here in the city," Bynum said. "At Central. I tried but I hit every hurdle. It was terrible and it really hurt my feet too. I was cracking my shins, my ankles, everything. 
"So I told my coach, 'I'm done. I'm done with hurdles. Just give me a straight sprint with no obstacles.'"
Problem solved. Since removing the barriers in his path, the Whitehaven High senior has developed into a force, putting him up there with the best not only in Tennessee but in the nation.
His 400 time of 47.02? Best in Tennessee and second-best in the U.S.
His 200 time of 21.42? Best in Tennessee and seventh-best in the U.S.
His 100 time of 10.80? Tied for the best in Tennessee with Antonio Lay of CBHS and 30th-best in the U.S.
And although indoor track isn't a TSSAA-sanctioned sport, Bynum has excelled there as well. He won both the 200 and the 400 USATF Youth Indoor Championships last month, clocking 21.68 and 49.06.
Clearly, Bynum is a young man who's going places in a hurry. After graduation – and after what he hopes will be a bountiful Spring Fling – he's enrolling at Tennessee to carry on the recent tradition of Whitehaven track standouts who have continued their careers in Knoxville. Tigers coach Brandon Jones said the Vols are getting a gift.
"What doesn't he bring to the table?" Jones laughed before turning serious.
"He's such a talented kid. Being 6-3, 6-4, and having long legs that can move, that really helps. And that right there sets him apart; typically sprinters are a little shorter but they're starting to stretch out more."
---
"It was a big transition, but I never would have been in the position I am now if I hadn't given up basketball and focused on track."
Emmanuel Bynum, Whitehaven High senior sprinter
---
Naturally being tall – and being in Memphis – Bynum gravitated toward basketball early on. He spent his first two seasons at W.E.B. DuBois before transferring to Whitehaven for his junior year.
Had he stuck with hoops, Bynum would have had a great role model from his own backyard. Maia McCoy was a standout on the Tigers basketball team, won multiple several state titles in the sprints and is now a senior all-American at UT.
But ultimately, basketball was just another obstacle in Bynum's path. 
"It was a big transition," he said, "but I never would have been in the position I am now if I hadn't given up basketball and focused on track."
Bynum's focus takes two forms. He's constantly watching video – both of himself and others – and constantly asking questions of Jones, who was familiar with Bynum's talent from his DuBois days. Inevitably, he draws inspiration from Olympic champion Usain Bolt, the blueprint for all tall sprinters.
"I feel like there's always room for improvement," Bynum said. "And if I want improvement, I've got to ask questions. (Jones) knows everything so it's a good idea to ask questions. 'How far do my knees need to be up? How do I eliminate the butt-kicking?'
"He'll give you the right answer, whether it's something you want to hear or something you don't want to hear."
Eliminating the butt-kicking should lead to Bynum kicking even more butt. With his height and long legs, he sometimes kicks himself in the rear-end as he's following through on his stride. As Jones said, it's the little tweaks that will come in time and separate Bynum from the crowd even further.
"He's work ethic is really strong," Jones said. "The kid probably asks more questions than anybody I know and I love him for that. He'll text me anytime of the day, 'Coach, I saw this in my race or I saw this in so-and-so's race.'
"His wheels are always turning and it makes it easy for me because we constantly have a dialogue (about getting better)."
How much better? Time will tell. Bynum said he planned to take a shot at a sub-21 time at Saturday's Battle of the Border meet at Whitehaven. There's some unfinished business at the state championship meet as well; slowed by a hamstring injury, he finished second in both the 100 and 200 at the Division 1 Large Class meet and didn't take part in the 400.
Off the track, Bynum seems a lot less serious. He lists his interests as hanging out with his friends and "irritating my mom." At a recent practice, he playfully irritated several of his teammates as well, including questioning the credentials of fellow senior Kirstin Jones, the reigning girls champion in both the 100 and 200.
"I'm a jokester," he said. "But at the same time you've got to get these kids motivated. I give that type of energy, but at the end of the day, we're all here one reason: to go to state and win a championship. You can't be playing."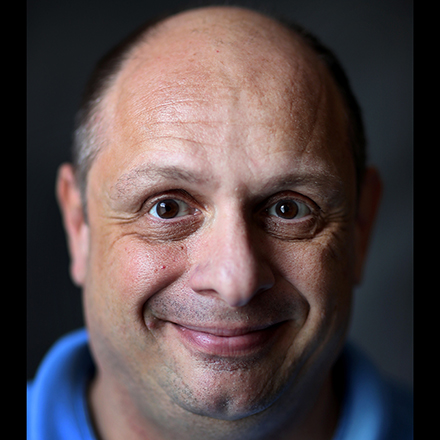 John Varlas
John Varlas is a lifelong Memphian who has covered high school sports in various capacities for over 20 years.
---