Editor's note: Due to the serious public health implications associated with COVID-19, The Daily Memphian is making our coronavirus coverage accessible to all readers — no subscription needed.
Like many Memphians, the past week was hard for Tia Williams.
She was recently laid off from her full-time job as a bus driver at Durham School Services – at least temporarily – due to the COVID-19 pandemic.
---
---
Williams, 42, has also had to find ways to keep her children engaged at home with the possibility of them being there a lot longer with schools closed for the foreseeable future.
"It's been hard because the kids are out of school, and we are off work and trying to give the kids something stable to do besides being outside running in the streets," Williams said.
On a cloudy and rainy Friday afternoon, Williams found a "blessing." She was one of a couple hundred people who made their way to Watkins Street, the location of Pursuit of God Church's food drive in Frayser.
Pursuit of God partnered with Mid-South Food Bank, Bellevue Baptist Church and Life Church and distributed more than 250 food baskets to help those in need. Those baskets included fruits, vegetables and bags of walnuts.
"This is a real good thing that they're doing here to help a lot of families out," Williams said.
About 11 miles south of Pursuit of God's food drive, KIPP Memphis Preparatory Elementary on Corry Road held its own food and supplies drive Friday – handing out packages to 100 families in South Memphis. The food drives were not limited to those who attend Pursuit of God or have students at KIPP's network of charter schools.
Both giveaways were done in a drive-thru format to minimize contact and encourage social distancing to comply with Centers for Disease Control guidelines. As of Friday afternoon, there were 30 confirmed cases of coronavirus in the county, according to the Shelby County Health Department.
Some volunteers at Pursuit of God and KIPP also wore masks, taking any kind of precautions they felt were necessary to protect themselves. CDC guidelines recommend people stay about six feet away from the nearest person and to wash their hands thoroughly for 20 seconds.
Vincent Martin, 12, was one of 10 volunteers helping organize packages at KIPP for families that included milk, bread, cereal and toilet paper. For Vincent, a sixth-grade student at KIPP Prep Middle, his reason for helping was simple.
"If we do our part in society, then the next generation will be better than where we are today," he said.
Shortly after the food drives concluded Friday, Shelby County Schools announced it was suspending its upcoming meal distribution program after one of its nutrition employees tested positive for the coronavirus. State and city officials are currently discussing a replacement meal plan.
Many students and families were relying on those free lunch meals – particularly in economically disadvantaged areas like North and South Memphis.
Pursuit of God Pastor Ricky Floyd said in these uncertain times due to COVID-19, the faith-based community must step up – even if their doors aren't physically open.
Memphis Mayor Jim Strickland asked all churches to close in-person services and move to online services as part of a civil emergency declaration he issued for the city Thursday, March 19.
Floyd spent Friday afternoon directing cars through the growing drive-thru line to receive their food baskets. He was wearing a captain's hat and "Built Frayser Tough" T-shirt. That was no coincidence.
"To most of the people in Frayser, bad times ain't nothing new to us," Floyd said. "This (shirt) is an encouragement that we're going to be alright. We're going to make it as a community. As a body of believers. As a family. A team. We're going to be alright."
Floyd said Pursuit of God may do similar events like this one on a monthly or bimonthly basis. That will depend on how long the coronavirus pandemic is significantly affecting lives in Memphis, especially in Frayser.
---
---
As she neared the end of the line to pick up her food basket, Williams said she was ready to go back to work. She doesn't know where or when that may be, but Williams is determined to keep her faith in a trying time.
"I'm not afraid or in fear," Williams said. "Because I trust God. It is what it is. Ain't nothing you can do about it. How you trust in God, but you in fear? That don't add up. My faith is just that strong. I just believe a blessing is going to come out of this."
Vincent has spent the past week at his grandmother's house. He's enjoyed the time away from school, but doesn't want that to last forever.
"I want to see my friends again," he said.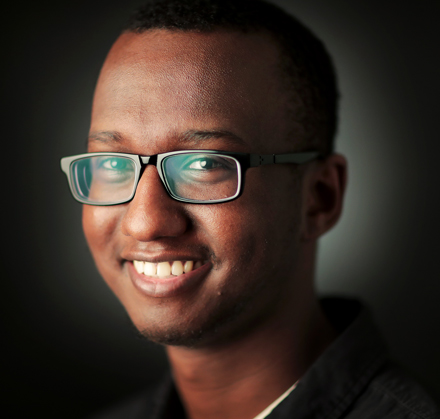 Omer Yusuf
Omer Yusuf covers Bartlett and North Memphis neighborhoods for The Daily Memphian. He also analyzes COVID-19 data each week. Omer is a former Jackson Sun reporter and University of Memphis graduate.
---