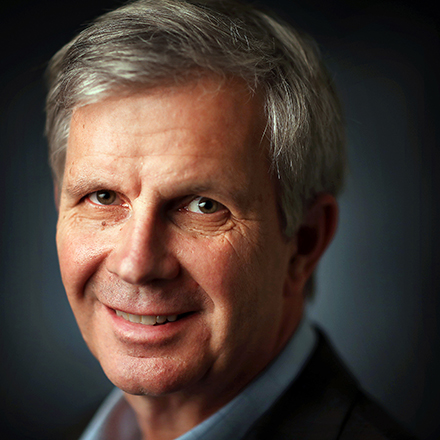 Daily Memphian
Geoff Calkins
Geoff Calkins has been chronicling Memphis and Memphis sports for more than two decades. He is host of "The Geoff Calkins Show" from 9-11 a.m. M-F on 92.9 FM. Calkins has been named the best sports columnist in the country five times by the Associated Press sports editors, but still figures his best columns are about the people who make Memphis what it is.
Editor's note: Due to the serious public health implications associated with COVID-19, The Daily Memphian is making our coronavirus coverage accessible to all readers — no subscription needed.
Early morning, the truck pulls into the parking lot of Reed's Market in Byhalia. Scotty Oates springs out from behind the wheel, unpacks a load of merchandise and heads for the door of the store.
A police cruiser idles in the parking lot.
Officer Missy Sansom calls out to Oates.
---
---
"You want a police escort?"
"Nah," he calls back.
They laugh.
For now, at least, they laugh.
Because the merchandise Oates is delivering is bread. Stacks and stacks of bread. Fluffy white bread and nutty multigrain bread. Neatly sliced buns for hot dogs, hamburgers and submarine sandwiches. Sandwich bread. Hawaiian bread. 
"I'm pretty popular right now," says Oates, with a touch of bemused bewilderment. "I'm the bread man."
---
Saturday, 12:30 a.m, 
at a warehouse on Austin Peay Highway
---
This is where the bread arrives. From the Lewis Bakeries factory in Murfreesboro. It is a nondescript warehouse. Don't even try and find it. Better you should continue the search for toilet paper.
Oates is already here, pulling out the stacks of bread he'll need for his route. He has been working flat-out since a week ago Friday, which is when the run on bread began.
"I went to my first stop that day and it was blown out completely, there was nothing left," Oates says. "I'm like, 'O.K., this is something I've never seen before.'"
Oates, 28, is an independent contractor, the middle-man who delivers Lewis Bakeries bread to local gas stations, grocery stories and convenience stores. Just after midnight Saturday morning, there are a half dozen other independent contractors — all men — moving through the warehouse, loading up for their own routes.
"It's been hell this week," says Chad Cox, another bread man. "Just total chaos. People are taking, six, seven, eight loaves at a time, before we can even put it on the shelves. They will buy anything at this point. They do not care. It's like people are scared they'll never eat again."
---
Saturday, 2:06 a.m.,
finally pulling out of the warehouse
---
Oates runs the last stack of trays into his trailer. There is barely room to pull the door down.
"I guess I'm glad they didn't bring the honey wheat," he says, with a shrug. But Oates is not glad they didn't bring the honey wheat. The honey wheat is a best seller. Lewis Bakeries didn't send the honey wheat because they didn't have the honey wheat, because people are buying bread so fast, some people will have to settle for (Oates shakes his head at this) nutty oat.
Oh, and about the name. How did a man named Oates come to be a bread man?
"My dad," he says. "My dad was a bread man. He used to pay me $5 a day to help him."
Oates bought his own route three years ago. That's how it works. It's like buying a dental practice or a veterinary practice. Oates still owes roughly $80,000 to the guy he bought it from.
"I pay $2,000 a month," he says. "But when it's paid off, it's money, hand over fist."
---
Saturday, 2:43 a.m.,
at a Superlo on Winchester
---
Oates unloads the trailer, waits for the manager to let him in. He heads to the bread aisle, which is cleaned out, empty. 
He brought bread to this Superlo the day before. And the day before. And the day before. And the day before. It doesn't matter. When Oates returns, the bread aisles are always empty.
"A normal Saturday, I'd have 1,800 pieces on the truck," Oates says, and by "pieces" he is referring to loaves. "Today, I have 4,100 pieces. And that's without the honey wheat. That was about 800 units they didn't send."
Oates sets about arranging the loaves neatly on the shelves. There is a sign that says, "One bread per transaction per management." So this isn't a few people hoarding bread. This is everyone in the universe buying a single loaf of bread. Which is almost more astonishing.
Soon, Oates is ready to head out. In one respect, the job is easier than usual.
"I usually have to take back the stales," he says. "The bread that has been there too long. But now, there are no stales. I think it will be a long time before I see one."
---
Saturday, 3:15 a.m.,
at a Kroger on Riverdale
---
Another bread aisle, completely blown out. As Oates works, stacking fresh loaves, he talks about the coronavirus.
"I'm not that afraid for my health," he says. "I don't have contact with a lot of people. I get in and out before most of the stores even open. I like it that way."
It's up to Oates, when he does his job. He doesn't have to deliver his bread in the dark of night. He wanted to avoid the crowds, avoid the traffic. Now he figures it will also help him avoid the coronavirus.
"It's getting really crazy," he says. "At one stop, the store was already opened, and people were acting like vultures on a corpse. I hate to say I'm living on fear right now, but folks are acting panicky and it's helping my business."
---
Saturday,

 

4:45 a.m.,
at a Walmart in Holly Springs
---
A Krispy Kreme truck is parked near the loading dock. A woman named Tiffany hops into the cab hefting a large package of toilet paper like it's a prize that she won at the Mid-South Fair.
This is one of the advantages of working deliveries. Even when the store is closed, the self check-out lanes are often open.
"Sometimes, friends ask me to hook them up," Oates says. "I do what I can."
But even at this hour, the Walmart is stunningly barren. The only toilet paper is in the back. There is a single loaf of bread when Oates arrives — Sam's gluten free.
Nearby, a Walmart employee puts a small stack of frozen chicken thighs in a giant freezer, which is otherwise empty.
"The first crew coming through here is going to knock that out," she says. "They're buying stuff they don't never buy. They bought the chili ground beef! It don't make no sense. What are they doing with it all?"
---
Saturday, 6:05 a.m,
at Carlisle's Cash Saver
in Holly Springs
---
Fred Carlisle, the owner of the store, knows Oates, of course. He is less certain about the newspaper guy riding shotgun.
"If you are here for ground beef, I'm going to have to ask you to leave," he says.
For now, Carlisle is joking.
But ground beef — any meat, really — has joined toilet paper, hand sanitizer, bread, eggs and milk on the list of coveted grocery items.
"I've never seen anything like this," Carlisle says. "I don't think there has been anything like this since the Depression."
Carlisle's Cash Saver used to be called Carlisle's Big Star, until a tornado hit Holly Springs in 2015.
"People were wiped out," he says. "We decided that the best thing we could do for the community was to lower our prices. We went with Cash Saver and it's been good for everyone."
That's the spirit Carlisle brings to the current crisis. The other day he saw a woman with a cart load of bleach.
"I said to her, 'Now, don't you think you could do with a little less bleach, and leave some for someone else?'" he says. "She said, 'You know, I think I could.' That's how we're going to get through this. Thinking about each other. If we could just slow down the customers a little bit, I think we'll be fine."
---
Saturday, 7:00 a.m.,
Reed's Market in Byhalia
---
It's the last stop on the morning run. But there is no telling how many runs are ahead of Oates. Usually, bread men take Sunday and Wednesday off. But there is nothing usual about the current circumstance.
"Want to see a photo?" asks Oates.
These days, he takes lots of photos. So does Chad Cox, the other bread guy, from back in the warehouse.
"Oh, yeah," says Cox. "I can show you."
It is mesmerizing, in a certain way. All those empty bread aisles. All those empty meat freezers. Day after day after day. In this country of abundance. In the United States of America. 
"It's like one of those snow days we have," says Cox. "Except multiplied by 10,000."
Oates is lucky he does not have to worry about his job. He jokes that he has become essential. But he worries about his friends, about the people he sees waiting outside stores, about how long this crisis could last.
"It's not the end of the world, but it's the world we now live in," he says. "I hope more stores implement the deal where they let the elderly come in an hour before the store opens to everyone else. If we can just be civil to each other, we'll get out the other side. I really do believe that."
Oates wheels his last load of the morning toward the sliding glass doors. That's when Officer Missy Sansom offers him police protection. They have a good laugh at that. Oates keeps right on going. But then Sansom picks up her cell phone to make a call. The words drift out her cruiser's open window.
"If you need bread, I found some," she says. "It's at Reed's Market. It's here, really. I just saw the bread man."
---