Freedom Prep's Cook building program, molding young men 'one brick at a time'
When Jerald Cook looks at his Freedom Prep Academy football team, he's able to view his players through a coach's lens. But he's also able to view them through a dad's.
A dad with girls.
"I have daughters," he said. "And some of these guys, if my daughters were their age, I wouldn't mind them going to the prom with my daughters. Just how mannerable and how respectful they are."
Manners and respect will only get you so far in football though. The Eagles may be nice guys, but they're able to set that aside when the lights come on.
In just their second season of varsity play, Freedom Prep has accomplished something many more established schools have a lot of trouble doing: They're in the playoffs for the second straight year. They went undefeated in Region 8-1A play, finished 7-3 overall and will welcome South Gibson to Melrose Stadium Friday at 7 p.m.
The Eagles went 5-6 in their inaugural campaign last year, losing to Lake County in the first round. This year, the potential is there to go farther.
"I told our guys if we come out with intensity and tenacity, I could see us going to Tennessee Tech (where the state championship games are held)," Cook said. "But we have to take it one week at a time. We have had several groundbreaking moments over the last two years and (a playoff victory) would be another one.
"We just want to continue to build a great program. Our school offers great academics and we just want to tie that all in with a great sports program. ... We're building one brick at a time."
No building job comes without a snag here and there. Earlier this season, the Eagles played two games without nine benched starters due to what Cook called "in-house issues." They defeated Middle College in a region game and lost to state-ranked Lake County in a nonleague contest.
But since then, Freedom Prep has reeled off six straight, which ought to give the players plenty of confidence headed into Friday. And plenty of experience against adversity.
"As a running back, it was kind of hard to play both sides of the ball," said junior standout Courtney Tate, who enters the playoffs with 1,637 yards on the ground and 19 touchdowns.
"And it wasn't just me. ... We had to hold tight until those players came back. But without the rest of us being strong, we wouldn't have been able to get that (region) win."
Added wide receiver-safety Demeries Brooks, "It's kind of like a role reversal. One minute it's like, 'OK, I have to get on the scoreboard and put my team in a good predicament,' and then on defense it's like, 'I'm tired but I have to make a stop.'
"But when everybody on the team wants it as bad as the man next to them, then anything is possible."
Indeed. Tate had probably his best game of the season in the 41-16 victory over Middle College, rushing for 325 yards on 27 carries (the only War Eagle to carry the ball from scrimmage) and scoring four times. Cook said he and Brooks have answered the bell all year long.
"As a school, we pride ourselves on being like a Notre Dame or a Morehouse," said Cook of Freedom Prep, a college-preparatory charter school of around 400 students located in Whitehaven. 
"But Courtney brings that Memphis mindset, that toughness and grit and grind. Now that's starting to show in our whole team. It's rubbing off. And Brooks brings great leadership. He's a leader in the building and that carries over onto the field.
"But sometimes he goes too far and he tries to get on the guys too much. That's when I have to step in and say, 'Hey, hey. Worry about yourself now.' But he's another coach on the field, especially on game nights. He's a great, talented kid and his upside is very bright."
Neither Tate nor Brooks, both juniors, have any major offers yet. But that's likely to change, especially if colleges continue to focus their attention on Freedom Prep's top prospects, junior offensive lineman Chris Morris and freshman quarterback Tevin Carter.
Morris is a rare bird in Class 1A, a 6-foot-4, 287-pound offensive lineman with offers from schools like Memphis, Georgia, South Carolina and Tennessee. The 6-foot-3, 190-pound Carter, who started as an eighth-grader, wowed the scouts on the summer camp circuit and has offers from Memphis, LSU, Michigan and Tennessee, among others.
"I'm blessed to work with a group of young men who are getting it done on the field and in the classroom," Cook said. "Tevin is a great talent and his intellect is off the charts, very bright and mature for his age. And Chris Morris ... everybody knows he can get it done inside the box, moving people around and pancaking guys left and right."
Add in Quincy Briggs, a freshman who intercepted four passes, returned one for a score and held down the quarterback spot in Carter's absence, and you have a formidable team that should be a factor for years to come.
"We play as a brotherhood," Brooks said. "We put it all on the line for each other, your quarterback, your running back, your defense, your coach. If you give it your all and stick together ... that's your brotherhood."
And it starts with Cook, who played at Tennessee State in the mid-2000s and knows how to relate to his players, on good days and bad. He says it's as simple as RDL: respect, discipline and love.
"Myself growing up in the inner city of Birmingham myself and kind of knowing what these young men were missing, I came in with the RDL model," he explained.
"Respect. I demand respect and I gave the guys their respect. I instilled discipline. And after that, I show tough love. Mothers give us love, but as another male I want to show tough love. They just need male support, someone that understands their situation.
"I grew up in a single-grandmother home and struggled with the challenges of the inner city every day, just like these guys. Then I was able to go to college, get a degree and see that there were other things out there. I'm just trying to line these guys up with the same opportunities."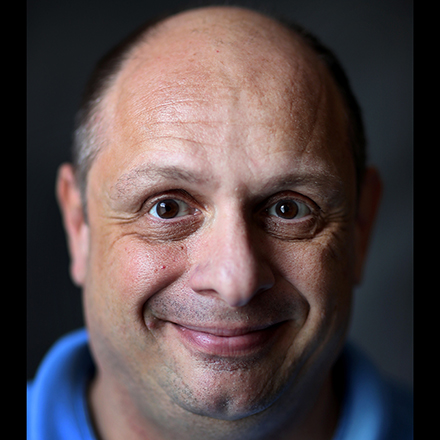 John Varlas
John Varlas is a lifelong Memphian who has covered high school sports in various capacities for over 20 years.
---